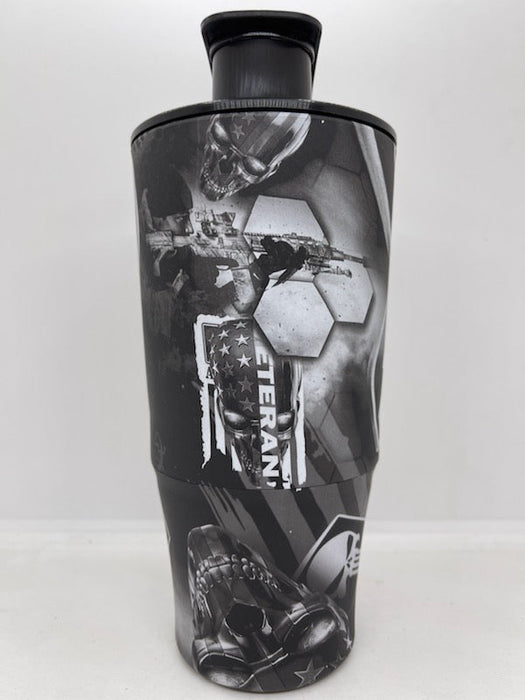 Veteran Original (Old Version)
Availability:
Out of stock
Sold out
Original price
$39.99
-
Original price
$39.99
Delivery time
Arrives in about 5-6 business days to United States via USPS First-Class (for in-stock products)
NOTE: All cups will be shipped with our new, flip-top (spill proof) lids, instead of the old spill-resistant lids unless a special request is made.

We just leveled up the spitting game.
Introducing The Original, Snuff Cup™, hydro dipped with new limited-edition designs. 
✔
NO MORE SPILLS, IMPROVED 3.0 FLIP TOP LID
Unlike other regular spit cups, our spit cup has a unique spill and leak proof design, meaning no more worrying about messy spills. Our Snuff Cup's built-in storage system can store up to 12 ounces of liquid.
✔
 THE 
PERFECT SPIT CUP FOR TRAVELING
Our Snuff Cup fits all cup holders. Combined with its simple, discreet design, this makes our Snuff Cup the perfect fit for when you're outdoors or on the go. 
✔
 A DISCREET CAN STORAGE SYSTEM
The Snuff Cup has a specially designed compartment which makes storing your "snuff" discreet and easy, along with a small containment system below the can storage compartment.
✔
NO NEED FOR A CAN OPENER
You can say goodbye to can openers, our unique all-in-one design includes a special can opening feature, making our Snuff Cup the superior choice to regular spit cups.  
✔
EASY TO OPEN & CLEAN
Nobody wants to get their hands in spit, so we designed our cup with a super easy to clean design, featuring an easy to remove lid.   
✔
RISK FREE SATISFACTION GUARANTEE
We're so confident you'll love our Snuff Cup, that we offer a risk-free money back0.00 guarantee on all orders. 
Start dippin' like a pro and order your Snuff Cup today!